These 5 small entryway ideas from Sweeten renovations make a big first impression
Everyone assumes the kitchen is the place to make a design statement in the home. While this is true, it is important not to forget another area: the entryway. It is the first—and last space—you see when entering and exiting your home. You want it to be a good balance of form and function.
However, not everyone has spare footage to work with. Fortunately, ar small entryway doesn't have to lack in style! Take these 5 different, design-forward small entryway ideas by Sweeten contractors. They show how to make the most of this valuable real estate in the home—no matter how large or small the square footage.
Sweeten matches home renovation projects with vetted general contractors, offering advice, support, and up to $50,000 in renovation financial protection—for free.
Idea 1: Enlarge a small entryway area
For a 1,800-square-foot apartment in Manhattan's Upper West Side, a couple hired architect Jessica Wetters to re-envision the space. It was a full-gut job that updated the kitchen, master bedroom, living area, and bathroom. You might expect with all that work to be done, they wouldn't be thinking about the entrance. But not these homeowners! Luckily, it was a simpler job since they were gutting the rest of the house anyway. The result is an enlarged area that is big enough for a comfortable and convenient bench, as well as a floating shelf for essentials.
Laura and Randy had a vision when they put an offer on their Upper East Side co-op. It was to reconfigure the layout to be more functional. A key idea in the plan was to re-do the small entryway. "We knew we wanted to extend the entryway as it was incredibly narrow with two closets on either side of the front door," says Laura. "We decided to keep the larger walk-in and remove the smaller one and create a place that was pretty but also functional." The stunning geometric wallpaper in the space also makes a statement.
---
Idea 2: Use wallpaper to make a statement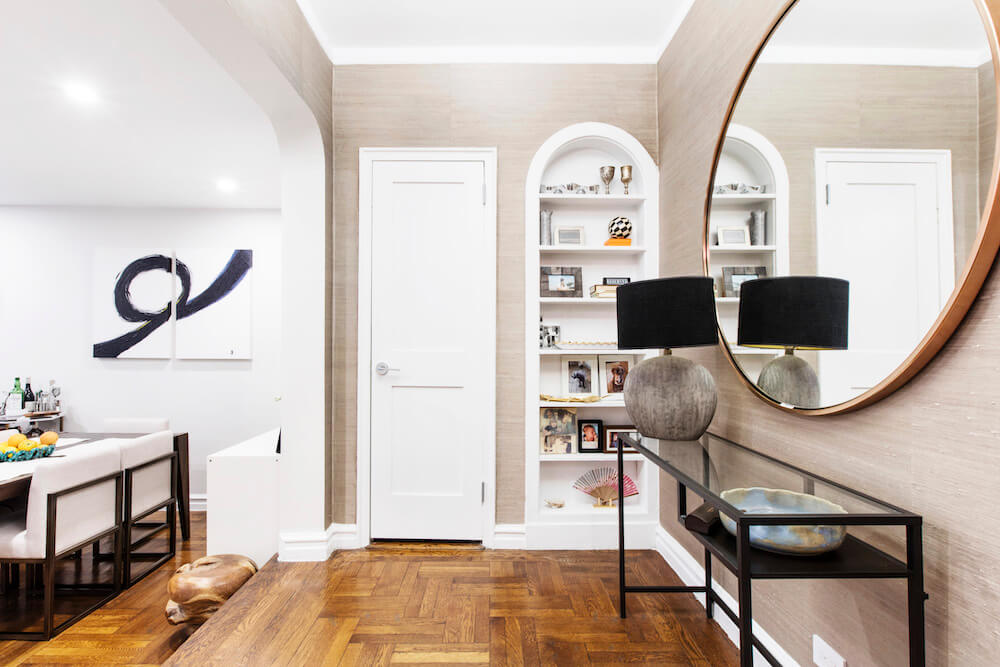 Jessica and Alex had rented for six years before buying an 800-square-foot co-op in the Chelsea section of Manhattan. They were thrilled to have a space to call their own but they needed it updated to make it feel like home. They remodeled the galley kitchen and the bathroom and also reconfigured a few closets. But they knew the entryway needed some TLC as well. To give it visual interest, they put up wallpaper. "The subtle raffia gives texture and depth to the walls," said Jessica. "We chose materials that would stand the test of time from both an aesthetic and durability standpoint."
For media executive Jenifer Herrmann and her partner Mitzie Wong (co-founder of creative design firm Roar + Rabbit), wallpaper was also the way to make a statement in their newly renovated entryway. They added Rhye wallpaper in hand foil and completed the look with a round mirror from Serena & Lily and a console from West Elm—elements that complemented the natural theme.
---
Idea 3: Combine function + design accents
Not everyone has the luxury of having an entryway closet to store shoes and coats. For, Tina, a designer, and her husband, Andrew, that was the challenge. Their 1930s co-op in Sunnyside, New York, needed a complete overhaul. But even with the re-imagining, they didn't have room to "deck out" the entryway. Their idea for the small entryway lacking storage was mixing form with function. They added a small bench and hooks to drop their bags and hang their coats and set them against a shiplap background. "We love the clean lines and texture of details of the shiplap," said Tina.
For Erin and Chris, their three-bedroom, two-bath co-op in a post-war, 1950s building also lacked storage at the entry. To remedy, they installed a bench with storage bins underneath and overhead. They spruced it up with wicker baskets and added a floating shelf and metallic mirror to the adjacent wall.
---
Idea 4: Add a statement piece
John had rented for many years so he decided to start building equity. He bought a 1,200-square-foot apartment on Park Avenue in New York City, with gorgeous views of the Big Apple. He enlisted architect Aurora Farewell to help rework the layout and add professional touches to make the place come together. For the entryway, they wanted to add a sense of drama. To achieve this, they hung a large round mirror that engulfs most of the wall and included a minimalistic, multifunctional wood bench.
---
Idea 5: Make the entryway space do double duty
Chris and Jeremy didn't intend to do a major renovation so soon. However, when the water damage from a leaky apartment above came to a head, they decided to not only fix the bath but proceed with a larger home renovation. They updated their kitchen, bathroom, and living space.
They also knew the foyer presented a unique opportunity if re-designed correctly. It was too small to do much with but large enough to be wasted space if empty. "We decided on a full-height bookcase that's only 8-inches deep and it holds loads more than we expected," said Jeremy. "On the opposite side, our general contractor fitted narrow custom cabinets to serve as a bar." Art lights hang over tall mirrors to give the space an art display vibe.
—
Enjoying these small entryway ideas? Find another stylish entryway in this Brooklyn co-op.
Sweeten handpicks the best general contractors to match each project's location, budget, scope, and style. Follow the blog, Sweeten Stories, for renovation ideas and inspiration, and when you're ready to renovate, start your renovation with Sweeten.